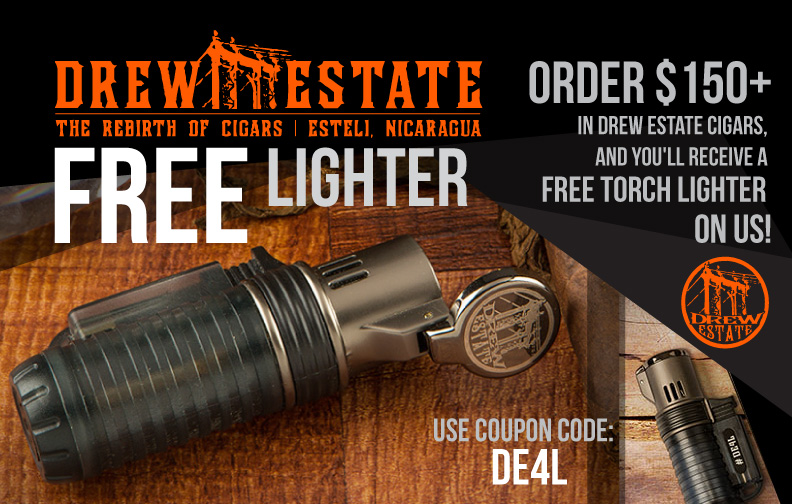 Want some BONUS FREE Drew SWAG?
Purchase $150 or more in Drew Estate Cigar Brands
Enter Coupon Code: DE4L
Receive the Free Lighter in your shipment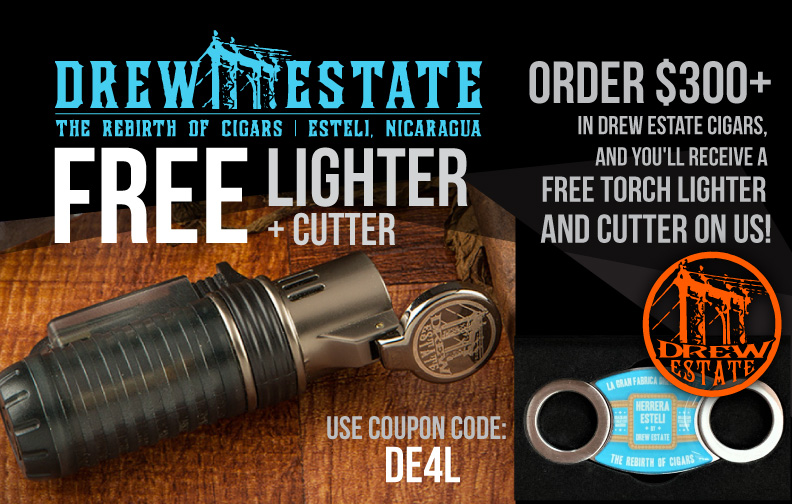 $300+ orders get the lighter
+ a FREE drew estate double blade metal cutter.
Enter Coupon Code: DE4L


Offer valid only while supplies last
Order must consist of at least $150 of qualifying brands below to receive free merchandise. Back-orders do qualify for deal (subject manufacturer availability). Limit of 1 deal per qualifying order. Deal also applies to phone orders if customer shares the coupon code when order is being placed.
DREW ESTATE BRANDS:
Click the brands below to be LINKED to purchase options

Only these brands qualify for special

ACID Kuba Arte (on Sale)
Herrera Esteli Brazilian Maduro
Joya De Nicaragua Antano Dark Corojo
Joya de Nicaragua Cuatro Cinco Reserva Especial
Joya de Nicaragua Antano Gran Reserva
Joya De Nicaragua Cinco Decadas
Joya de Nicaragua Antano Connecticut
Kentucky Fire Cured Swamp Thang