My Father
Flor De Las Antillas
10th ANNIVERSARY
LIMITED EDITION
2022
A new limited edition release to celebrate the Flor the Las Antillas line turning ten years old!
The cigars are made in Nicaragua, and presented in ornate, numbered boxes containing 12 cigars, each of them presented in individual wooden coffins. The boxes are striking, with a golden label near the bottom right corner of the lid showing the number of the production run.
The 12-count boxes are an homage to the year 2012, when the Flor de Las Antillas Toro was named Cigar of the Year. It was the first time the Garcia family, owners and makers of My Father Cigars, won that award.
The new smokes measure 6 1/2 inches long by 52 ring gauge, and while the all-Nicaraguan blend has a certain familiarity to the traditional Flor de Las Antillas, it has been modified, with tobacco from different farms, all of them owned by the Garcias.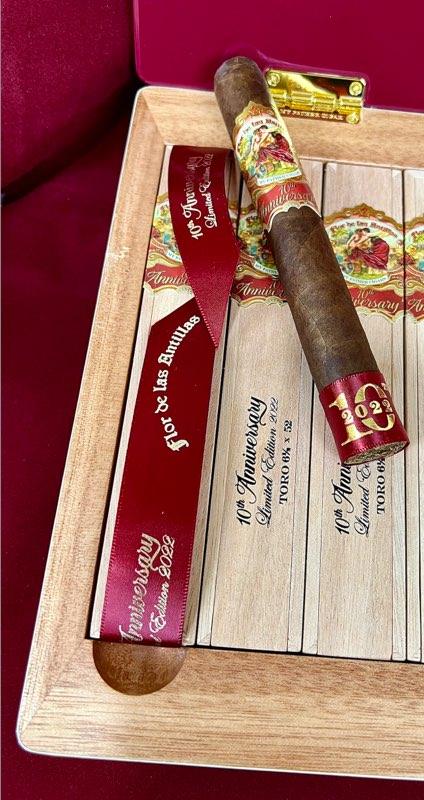 "The wrapper is very similar, same seed, but it's darker," said Jaime Garcia, standing in his Miami-area headquarters and showing off a prototype of the box and the cigars. He suggested the cigars would be a bit stronger than the traditional Flor de Las Antillas, calling the strength of this limited-edition "medium plus."

Production will be limited to 5,000 twelve-count individually numbered boxes.

Get these beautiful ULTRA Premium Cigars before they sell out - a beautiful addition to a true aficionado's collection!